Career Builders Workshop
$295.00 ($150.00 minimum deposit)
12 Morning sessions, every Wednesday at 9:30 am for 45 minutes, beginning March 3, through May 19.
Note: "Morning" here is relative, 9:30 am Pacific, 12:30 pm East Coast, and 5:30 pm in London.
This is for those who are serious about building their businesses and careers and have, perhaps, already embarked on the business. While there will be lectures and homework, it is designed to be flexible and at least partly self-directed by the students. Having read Beyond Applause: Marketing & Management for the Independent Performer (available on Amazon) is recommended, but not required. Group size is limited to 16 people in order that everyone has a chance to participate actively. Although sessions are recorded and available for participants in the class to watch for up to one year, they will not be released in any form to anyone outside the class.
Each week there will be a ½ hour video lecture to watch in advance…and the 45 minutes together will be for discussion and question and answer sessions. The cost of $295 includes 2 half-hour one-on-one consultations with Tobias…normally a $150 value all by itself.
You can join us without having read my Beyond Applause book...but you'll get more out of it if you do. Amazon prints them on-demand, so it may take a couple of days to arrive after you order.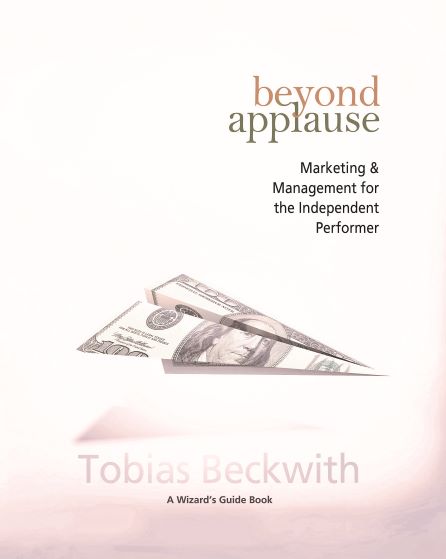 Each week we'll cover a particular topic, most likely derived from the following list, but topics are subject to the group's own requests and needs, so the following may change as we go:
Introduction - Overview of what it takes to build a business -- both on and off-line.
Purpose - Going deeper into defining mission, vision, who we serve, etc.
Strategy - What's your model, and your specific goals? How will you reach them?
Team - Who do you have on the team? Who do you need that you don't have? How will you get them?
Leadership - Purpose, team, and strategy all require strong leadership to make them work. What's your leadership style?
Finance - If you don't pay attention to financial matters, they'll eat you alive. Here's where you learn to budget accurately, track your financial situation, and more.
Legal - Again, you don't need to become a lawyer, but having strong agreements and making sure everything you do is within the law are essential parts of running any business.
Communications - Ultimately, every communication, every contact you have with anyone or any group, will affect the success of your business. All the points covered above rely on the ability to communicate effectively.
Marketing & Sales - Have you really defined your market? How will you let them know you're there to serve them? How can you make sure you're actually having the effect within that market that you intend to? Do your advertising, PR, pricing and actual product serve that market as well as it can?
Systems - There's a ton of stuff covered in the first 8 points here. If you don't have systems in place to handle them all, you'll lose track, and become consumed with the minutia of running the business. None of us want to become slaves to our businesses, but without the proper systems and team in place, that's what can happen.
Continuous improvement - Once you have everything above handled, you can start improving in each are, by improving the systems you've created to handle that.
How does the "new normal," which appears will combine online and in-person appearances, change your approach to everything we've talked about?
Sources to continue the learning and innovation process.
Those are just the main subject points I anticipate covering--the real world will provide us with more, I'm sure. While you'll get a lecture on one of these delivered via streaming video by Friday of the previous week...we're by no means limited to my subjects and my own experience here. The experience of the others in the group will be invaluable, and we can call in other members of the McBride Magic team--or others--as may be useful.
Presenters