Master Class your Zoom Show--ONLINE
$295.00 ($150.00 minimum deposit)
Registration Not Open
Live Online
With Jeff McBride, Larry Hass, & Tobias Beckwith
Saturday & Sunday, July 18-19 from Noon - 4:00 p.m. (Pacific) each day.
Get expert feedback on your online performances (live on Zoom) from the world's foremost teachers and directors of magic.
Note: All performing slots have currently been filled. The good news--you can enjoy and learn as much just by observing, without the pressure of having to perform!
Our two sessions will be real-time, interactive, and focused on YOU and your personal needs as you seek to create highly effective online performances and shows. In this class, we will pay special attention to SHOW-BUILDING for online performances, and we will be teaching many routines that have proven to be effective in this setting.
We have over 30 years of experience training magicians at all skill levels and over 9 years of delivering programs and shows online.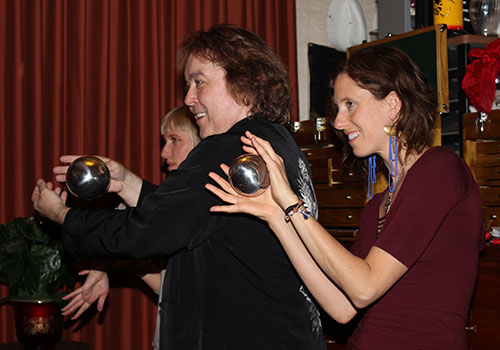 You are welcome to attend if you are a beginner, intermediate, or a full-time pro. Even though this class is being offered online, we will be organizing the class around YOUR performances and interests. Even if you choose to not perform during the course, you will learn and enjoy a wealth of life-enriching material.
Since the beginning of March, our School completed a series of very successful online Master Classes and Conferences in Europe. Further, we have launched a curriculum of online courses, including our recent FOCUS ON ZOOM ONLINE class. In this MASTER CLASS, many participants will be performing LIVE through Zoom, and you will receive Jeff's, Tobias's, and Larry's EXPERT DIRECTION about how to improve, develop, and build your online show.
"I've attended live Master Classes and was amazed by how similar the online experience was. Highly recommended. 5 stars" —Alexis Brouard, Belgium
"The Mystery School has a winning formula with their online format, given these difficult times when people cannot physically come together." —Paul Coyle, England
If you want detailed, personal instruction in an intimate and safe setting, then you will want to join us for MASTER CLASS YOUR ZOOM SHOW--ONLINE, from the industry leader in online education and show-making.
The Basic Schedule For Each Day (this will shift somewhat):
11:30 am (PACIFIC): Zoom Classroom is Open.
12:00 noon: Opening Live Show
12:15-12:45 pm: Vision Council
12:45-2:00 pm: Works in Progress Sessions
2:00-2:15 pm: Break
2:15—3:00 pm: Keynote Lectures and Magic Teaching
3:00—4:00 pm: Works in Progress, Q&As, Magic Teaching, Action Items, Final Words
Presenters