Beyond Deception -- Acting, Stagecraft and Innovation for Magicians
$195.00 ($100.00 minimum deposit)
Taught online on the Zoom platform. three Tuesdays, Nov. 17, 24 and Dec. 1 at 5 pm Pacific (8 pm Eastern). Each session 90 minutes plus Q & A. All sessions will be recorded and available to registrants for 2 months following the end of the class.
Special Guests to be announced momentarily.
Magic is so much more than tricks. To lift your performances above the level of "here's another trick," and into the realm of "a magical experience," you need all the tools of the actor -- character, believabilty, heightened emotion, and showmanship. Tobias Beckwith's book Beyond Deception, Vol. 1 has already inspired thousands of magicians to create more meaningful, more powerful experiences for their audiences. His experience as a director and acting teacher, combined with his deep knowledge of magic gained from 30 years working with Jeff McBride, Marco Tempest, and others, is now available via this class to you. Pariticipants will receive a .pdf version of Beyond Deception as part of your class materials. Jeff McBride has long been among the most exciting of magical artists, with a strong background in mask, mime and other performance disciplines. His book The Show Doctor continues to be a best seller. Beyond that, McBride is widely considered to be the best teacher of magic alive today.
We'll have 3 sessions, each 90 minutes of workshop plus discussion, starting November 17 at 5pm Pacific (8pm Eastern). During those sessions, we'll cover basic acting techniques for voice, movement, character, motivation, sub-text and more. You will come away with: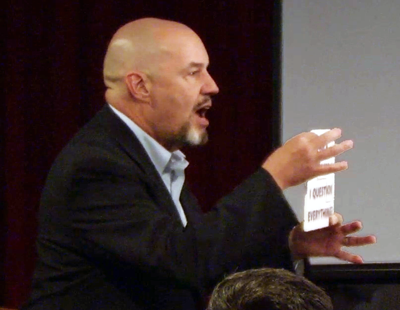 Voice & Body Warm-up Techniques
Working the Mask
An Understanding of Basic Acting Psychology
Character through Dialect
"Theater Games" for Creativity and Enhancing your Performance Power
Written & Physical Creativity Exercises
How to work with motivation and sub-text
Script Development through Character Building
Enhancing Your Performance through Staging
How Different Venues & Platforms (live & online) Affect Magic
A Director's Understanding of Show-Building
Better Practice & Rehearsal Techniques
We'll use special "guest demonstrators" most weeks, and some may be drawn from the pool of students.
I'd like to be clear that this is not the kind of workshop class where you will present for feedback and direction, but a preliminary set of knowledge and work assignments that prepare you to get more out of that sort of work. The Magic & Mystery School currently offers Master Classes and one-on-one sessions with faculty where you can receive that kind of feedback and direction. Taking this class first will insure that you get the most out of master classes and one-on-one instruction.
Presenters