CORE ACT 1 -- Card Magic Mastery: Manipulation with Cards, Stand up & Stage
$99.00 ($50.00 minimum deposit)
Registration Not Open
Classes ONLINE on Zoom / Saturday from 11am-1pm Pacific Time
"Cards are the Poetry of Magic."- Juan Tamariz
It takes many years to become a skillful master card manipulator. Jeff can shave YEARS off your learning curve with this one-day workshop! Learn the tricks and tools of the trade to create "The illusion of mastery!"
Many students make the mistake of studying the wrong material and wasting time and effort. Not all manipulation takes years of practice. Jeff knows many "insider secrets" that have the potential to skyrocket your progress!
Jeff McBride has toured internationally with his card magic show, entertaining audiences both close up and on the largest stages in the world! We will explore card magic for stand-up and stage.
REFRESH* RENEW* BE INSPIRED!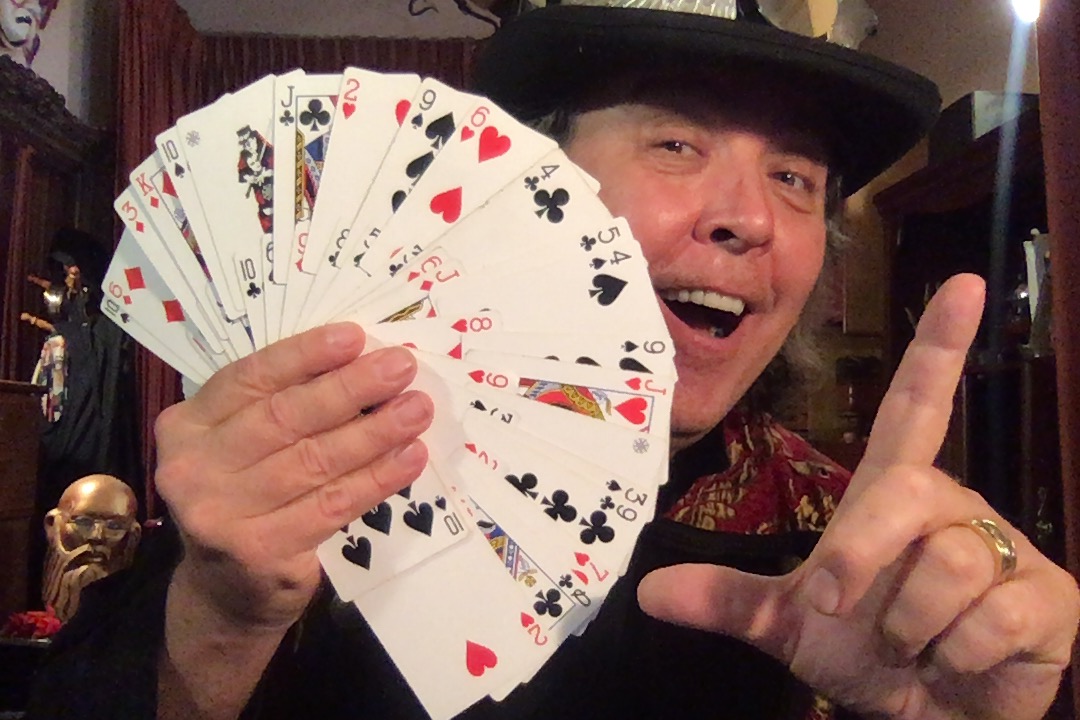 Jeff will also share his philosophy on routining, character, and presentation.
You will learn to perform card magic "the right way" - and learn classic and progressive techniques of the masters.
Build your skills and understanding of stagecraft:
Imagine creating jaw-dropping miracles for your friends and family!!
In this one day workshop, Jeff will share the essential skills and tools needed to create great card magic anytime and anywhere you go!
Close up card magic has the amazing power to connect people instantly.
Almost every great magician started out as a close-up magic performer, and Jeff will teach you how to create impressive moments of astonishment. You will learn skills and techniques that will last you a lifetime!
TAKEAWAYS: You will leave this class with a full understanding of how to build your core act.
Many of Jeff's professional routines, including Jeff's Commando Card Manipulation Routine, Master Secrets of Back-palming mastery,
Surefire Split fans, Single productions, "Surrounded Card Manipulation Secrets"; Diminishing Cards, Jumbo Card Fan Productions, Silk & Card Transformations, Color Changes, Expert Card Fanning and Card Flourishes, Card Grand finales and Much More!
BONUS TIME & FOLLOW UP TRAINING MATERIALS:
Jeff will stay 30 mins or more after class to take your questions.
You will get a follow-up bundle that includes reference materials, PDFs, important resources, and a complete video recording of your time with Jeff.
Follow up visits and one- on -one coaching time with Jeff online will also be available after the class.
YOU WILL NEED: 2 packs of playing cards, like these:
https://shop.magicalwisdom.com/p/stage-magic-manipulation/mcbride-spinning-and-fanning-cards
A notebook and an open mind.
Presenters