CORE ACT 4 -- Manipulation Masterpieces
$99.00 ($50.00 minimum deposit)
Classes ONLINE on Zoom / Saturday from 11am-1pm Pacific Time
Sleight of Hand Mastery with Coins, Balls & Thimbles for Stand Up & Stage
Jeff McBride is one of the greatest sleight-of-hand experts in the world. His extensive knowledge of manipulative magic is unparalleled.
Now Jeff can share his secrets with you and help you build your core manipulation act.
Jeff McBride's teaching style will help you to transcend your tricks and create a new form of magic theater. Now Jeff shares with you, for the first time, many never before disclosed techniques of the master manipulators. Jeff leads you step-by-step through this fascinating world of "digital" effects, and gives you the tools you need to become your best. A lifetime of manipulative masterpieces is waiting for you.
TAKEAWAYS -- You will leave this class with a full understanding of how to build your core act.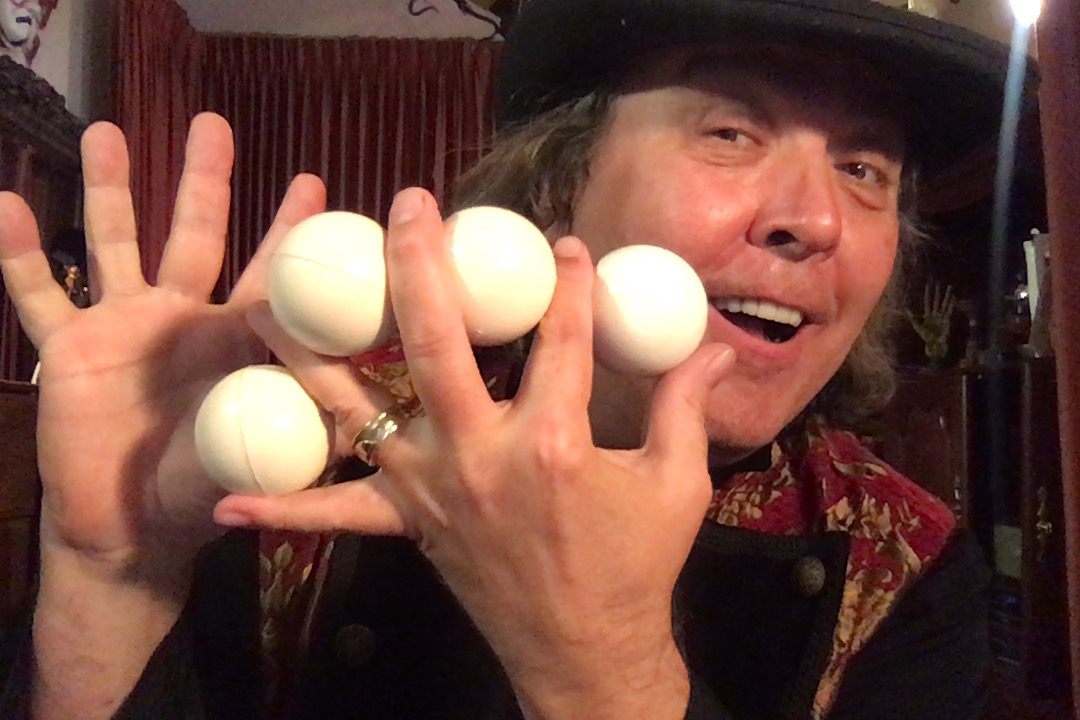 McBride shares his insights and teaches you every nuance and subtlety of coin, ball, and thimble magic, Not only the techniques, but how and why he came up with his presentations for each, and how you can do the same to make your magic truly personal, unique and powerful in your own way.
You will also leave with a full ball routine, thimble routine, and coin routine for parlor or stage.
Whether you are amazing the grandkids or entertaining the CEO of a huge corporation, this class will give you the skills you need to succeed.
Jeff will curate the very best productions, vanishes, color changes, jumbo productions & transformations, hidden gimmicks, coin, ball and thimble holders, steals, holdouts, loading techniques; Customizing Your Props; Handling Emergency Situations Onstage; Showmanship; Magic & Music Tips. Advice on Costumes, Props, and Tables; and more!
BONUS TIME & FOLLOW UP TRAINING MATERIALS:
Jeff will stay 30 mins after class to take your questions
You will get a follow-up bundle that includes reference materials, PDFs, important resources and a complete video recording of your time with Jeff.
You will also get Jeff's "Personal Best Ball, Coin & Thimble Routines" Video!
Follow up visits and one- on -one coaching time with Jeff online will be available after the class.
YOU WILL NEED:
8 thimbles, 3 or 4 billiard balls and a shell, any differently colored ball or golf ball, a 24" silk handkerchief, get them here:
A notebook and an open mind.
Presenters