Focus on: Fairs, Festivals, & Pop-Culture Events
$195.00 ($75.00 minimum deposit)
Three Tuesdays from 5 pm - 7 pm PDT -- April 13-27
Did you know that there are over 3,000 fairs, festivals, and pop culture con's that take place in the US every year? Do you know that most of these events have budgets to hire multiple entertainers each day for multiple days? It is time to build a show that will capture their attention and get you on stage.
The Pendragons, Rick Thomas, Jeff McBride, and many of the world's best magicians started their careers at fairs and festivals. Thousands of entertainers are enjoying the benefits of working at these venues year after year. Many performers can make an entire annual income during the summer season.
Paul Draper has performed at state fairs, county fairs, arts festivals, comic cons, anime expos, renaissance fairs, steampunk conventions, music fests, national science events…. And so many others! Draper is excited to teach you how you can travel the country seeing the sights and eating the food while being paid to do what you love.
Guest speakers will include some of the top performers working in the field of fairs and festivals who will share their inside secrets.
Topics will include:
Building the right show
Creating your sales tools
Being seen by the decision makers
Customizing your presentations
Performing in unusual performance conditions
Setting up repeat bookings year-after-year
Day 1: Inspiration
Day 2: The Real Work
Day 3: Getting to Work
Guest Instructors will include (But are not limited to):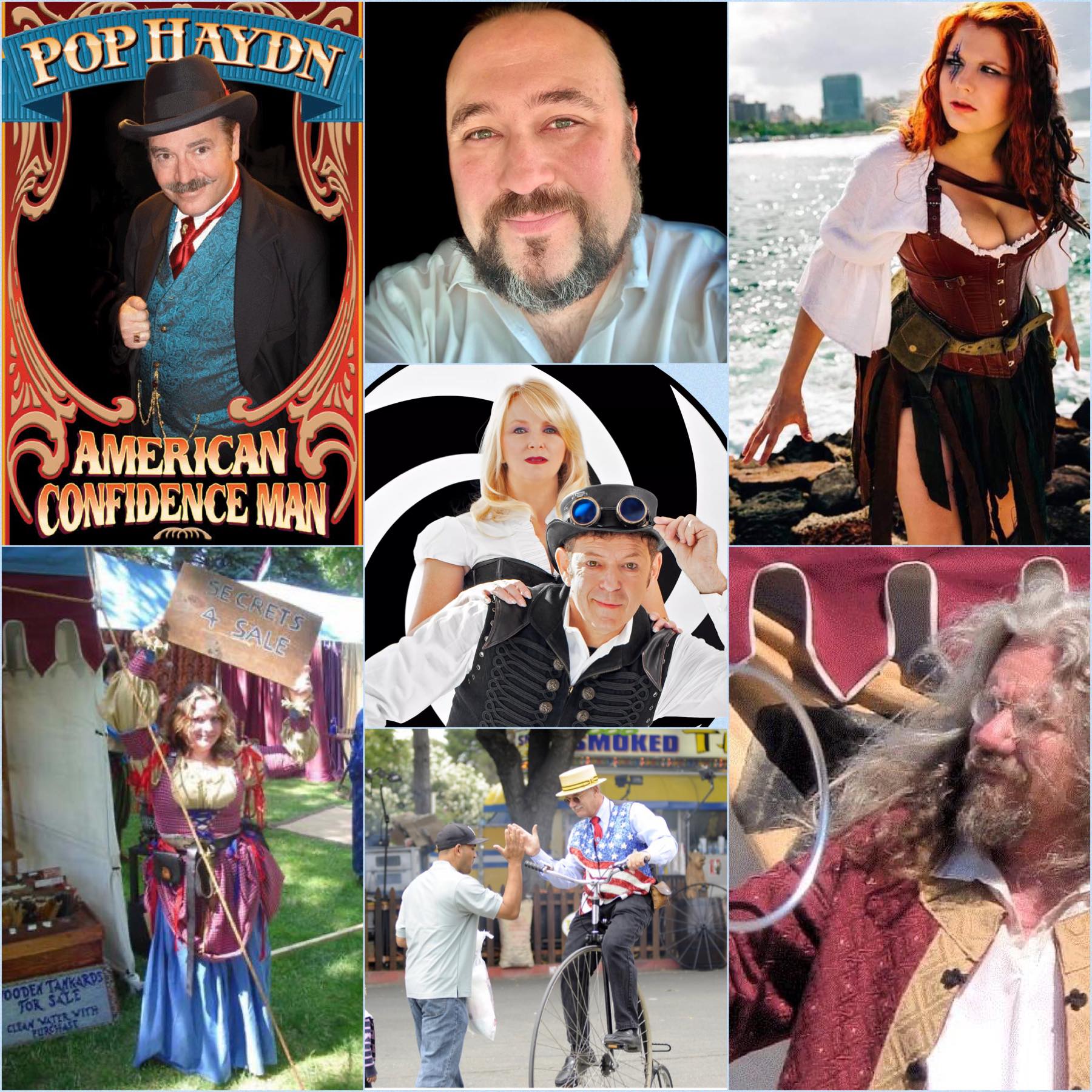 Dennis Forel: Dennis Forel is one of America's foremost Balloon Sculptors. His repertoire of over 108 different animals, have taken him to state and county fairs, amusement parks, shopping centers, and special events throughout the Western U.S., Alaska, Mexico, Japan, and the Bahamas.
Dennis' performing world has expanded to include amusement parks such as Busch Gardens, Los Angeles, Knott's Berry Farm, Disneyland and Nagasaki Holland Village in Japan.
He has also performed in nightclubs like the Magic Castle and the Troubadour in Hollywood, Gallagher's and Catch a Rising Star in the San Fernando Valley, Cobb's in San Francisco, and Hennesey's in Hermosa Beach.
Along the way Dennis Co-authored a book on making animals out of balloons titled "Balloonacy-The Art of Air Sculpture" which was later turned into a video entitled "Balloonacy"
Pop Haydn -- Whit "Pop" Haydn is the winner of seven performing awards (for performances in showrooms at the Magic Castle) from the Academy of Magical Arts. He has been nominated by his fellow members for "Magician of the Year" in Close-Up, Parlor and Stage, Bar and Lecturer more than thirty times. In February 2006, he also became Vice-President AMA, and served for four years in that capacity.
He has opened for Jerry Seinfeld, the Smothers Brothers, Loretta Lynn, and others, and performed on cruise ships of many different lines, including Cunard Line's Queen Elizabeth 2, and the Diamond Princess. Haydn has worked hotels and casinos including Caesars Tahoe and was one of the first acts chosen in 1996 to open Caesar's Magical Empire in Las Vegas.He was the chief magic consultant on Norman Jewison's Bogus starring Whoopi Goldberg, Gérard Depardieu and Haley Joel Osment as well as a consultant on multiple television documentaries including the Discovery Channel's "Houdini, People Came to See Him Die" and David Copperfield's television special, "Orient Express." In recent years, he has adopted the persona of an "expatriate con man and medicine show huckster from the early 20th century," and he has headli ned such venues as the World Steam Expo. In September 2012 he sat on a panel, at Stan Lee's Comikaze Expo on the subject of the steampunk subculture and its relation to other subcultures.

Alan Sands -- Alan Sands has taken his show to 46 U.S. states and Canada; to Beijing, China; Malaysia; South Africa; and Dubai, in the United Arab Emirates.
Other markets include fairs, festivals, exhibitions and amusement parks; company picnics and corporate parties; cruise ships, casinos, and comedy clubs.
Raised in the Catskill Mountain resorts in upstate New York, Alan Sands began traveling with his father, George Sands (magician and creator of 17 books on magic, balloon sculpture and puppetry) when he was only three years old. After taking his clinical hypnosis training, Alan became a Certified Stage Hypnotist. Alan has performed at over 220 county, state and agriculture fairs, exhibitions and festivals. He has entertained at a hundred colleges, a dozen casinos, multiple extended runs at amusement parks, about 750 company picnics, and dozens of comedy clubs, theaters, conventions, and cruise ships, as well as over 300 high school shows for grad nights and post prom parties.
Bonnie Gordon -- Although recently seen in many on-screen projects and web series, Bonnie Gordon is most recognized for her time starring on ABC's inventively fun fantasy/reality show, "The Quest", and the Geek & Sundry shows "Shield of Tomorrow" (Star Trek) & "Callisto 6"
If her face doesn't seem familiar to you, perhaps her voice will… From video games to anime, some voiceover credits include "Street Fighter V" (Rainbow Mika); "Mega Man 11" (Bounce Man); "Code Vein" (Eva & soundtrack vocalist), Fire Emblem: Echoes (Silque & the vocalist for the end credits song); recurring characters on Cartoon Network's "Mighty Magiswords"; "Battlestar Galactica": Deadlock (Sam); and many more to be announced soon! Bonnie travels and sings lead vocals with her nerdy parody band, Library Bards, and performs at hundreds of comic cons and nerd events all over the world!
Ralph Huntzinger -- Three fantastic and fantasy careers; after 1) graduate education and a career in Mass Communication Broadcasting, plus 2) more graduate education and a career in Information Literacy, why not pursue a dream: 3) create Renaissance Faire Troupe performing Stage Magic. Zinger, the Magick (Ralph Huntzinger) was an amateur for 10 years, an enthusiast for 30 years, and in the twilight of the last century turned Professional. Royal Magick Troupe was the premier stage magic show for the Western United States' portable renfaires. More than the usual act, in Master Payne's words, "Most of us roll or carry our act onto the platform, Zinger brings the theatre." Currently distilling 20 years on the road or customizing effects for a book (there are 5 dozen tried and performed effects plus a couple dozen on drawing board), Ralph has solid experience, skills, successes, failures, advice, and opinions about the world of outdoor themed events.
Joy Knight-Richards (D'Avanzo) has been in the performance industry for over 30 years. Performing and teaching at various conventions, Renaissance Faire's, and speciality events across the Pacific Northwest and beyond. She is a magician, character performer, puppeteer, costumer, designer, makeup artist, MC, and pro cosplayer. You can find her at Gypsy Realm productions, The Girl Next Door Cosplay, and Visions by Victory on Facebook.
Presenters