Master Stage Hypnosis-- Early Bird Pricing Until April 1st!
$2,500.00 ($1,250.00 minimum deposit)
Are you ready to become a Master Hypnotist?
MASTER STAGE HYPNOSIS
4 STUDENTS ONLY- LIVE IN LAS VEGAS
Kevin Lepine's Master Stage Hypnosis Course is BACK, and this time it's bigger and better than ever before! If you're looking to learn from the best and want to become a hypnosis superstar, then look no further, because this is the ONLY course where you learn by doing and get to be in a Las Vegas Show!

Join us in Las Vegas, where you'll be learning and practicing in the Hypnosis Unleashed showroom. From the moment you step onto the stage at the Canyon Club inside the Four Queens Casino Hotel, you'll be building your show from day one! This isn't sitting in class learning theory. You will be ONSTAGE, mic in hand, practicing your hypnotic craft.

This one-of-a-kind course is limited to just four students, so you'll get hands-on instruction and multiple stage experiences throughout the course from Kevin Lepine, a Master Hypnotist with over 25 years of experience. For the last 13 years, Kevin has been wowing audiences in Las Vegas with the longest running hypnosis show in town, Hypnosis Unleashed.
In this course, you will learn everything you need to do your first shows from start to finish.
No previous hypnosis experience is required, and the less you know about hypnosis, the fewer bad habits you will need to break! You'll learn Kevin's multi-level induction methods, how to safely get people under, wake them up and do a show, how to get the most out of each volunteer, and how to sell your show to the market you want.
Each day of the course is packed with exciting, hands-on activities that will take you from beginner to pro in just five days. You'll learn the secrets of hypnosis, the science of why it works, and how to use it to your advantage. You'll be guided through the stages of hypnotic induction, learn induction techniques, and get to practice putting people into a trance. You'll also learn how to deal with the wrong volunteers, test for depth, and construct your show.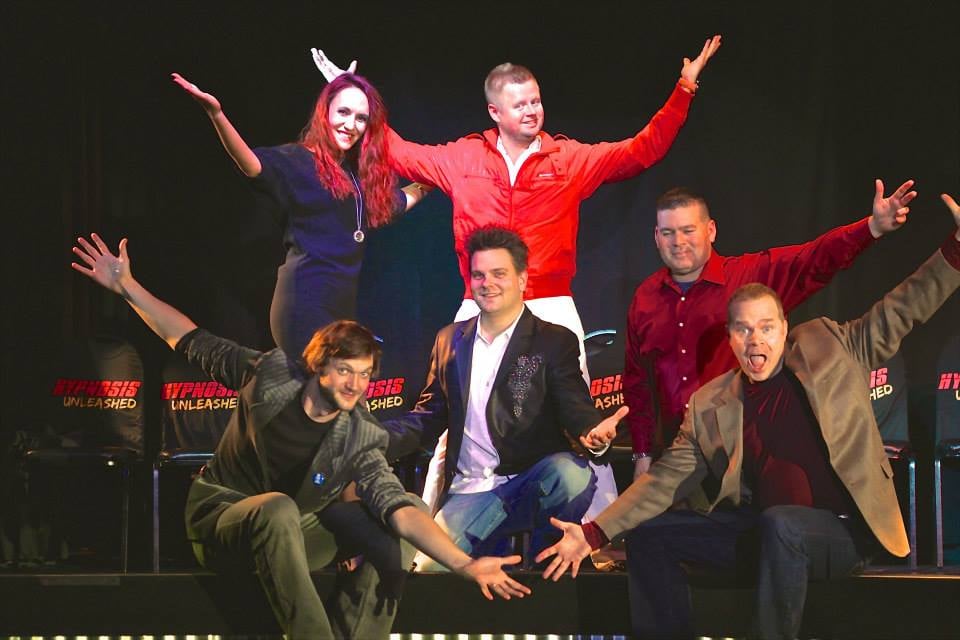 REAL ON-STAGE TRAINING!
But that's not all! If you feel comfortable, you'll get an opportunity to perform onstage with Kevin Lepine during Hypnosis Unleashed - THE Vegas Hypnosis Show. That's right, you'll be given the opportunity to perform your own 20-25 minute show in the showroom on Sunday, and you'll even get a digital video file of your routine in Hypnosis Unleashed and your 20-25 minute show!

Class Takeaways include:
• Exclusive class training manual to go along with your live training including:
• Induction Scripting
• Induction Formats
• Skit ideas
• And marketing ideas
• Certificate of Participation
• Tickets To Hypnosis Unleashed each night Wed-Sat
• The opportunity to do a routine in Hypnosis Unleashed if you feel comfortable
• Doing a 20-25 min show in the showroom on Sunday
• A digital copy of your routine in Hypnosis Unleashed and a digital copy of your 20-25 minute show
• Don't miss out on this once-in-a-lifetime opportunity to learn from a true master and become a hypnotic superstar!

So what are you waiting for? Sign up now and get ready to take the stage by storm!
Tuition: $2,500.00

REGISTER HERE: https://shop.magicalwisdom.com/event/master-stage-hypnosis

For Travel and more info go here: https://www.magicalwisdom.com/about/las-vegas