The Second Annual: Inclusivity and Diversity in Magic Conference (IDM*Con 2022)
$99.00 ($45.00 minimum deposit)
Registration Not Open
You may apply for a need-based stipend at: https://www.magicalwisdom.com/scholarships
Registration is free for those selected to present and perform (email Paul@PaulDraper.com to be considered).
3 Days - 3pm-7pm Pacific (6-10 Eastern)
This year's theme: Unique Perspectives
With a special focus on Women, BIPOC, LGBTQIA2S+, and individuals living with disabilities who were or are also magicians.
Conference Leadership Team: Benjamin Barnes, Christian Cagigal, Simon Carmel, Cody Clark, Paul Draper, Kayla Drescher, Felice Ling, Steven Longacre, and Dyna Brenda Staats.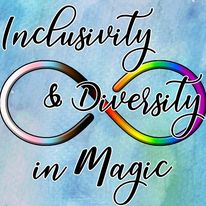 This will be a three-day conference with speakers, performers, and panelists focusing on the Unique Perspectives of Women, BIPOC, LGBTQIA2S+, and individuals living with disabilities who were or are also magicians. This conference will give a platform to a wide variety of performers and researchers committed to highlighting representation and seeking greater inclusivity in the world of magic.
2022 is the right time in history for this conference and it is a focus that we believe will bring many new people together from a wide variety of academic, research, performance, press, and other industries.
The leadership team of this conference is comprised of several successful magical performers who represent a wide variety of thoughts, opinions, and backgrounds that make them perfect to establish this first annual conference.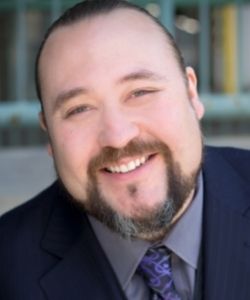 Mystery School senior faculty member Paul Draper will be available to help facilitate and support a safe space that offers a platform highlighting voices that need to be heard. The goal is to bring together individuals from many groups currently focused on promoting and supporting magicians in marginalized groups to share one virtual space filled with a variety of voices.
Leadership Team
Kayla Drescher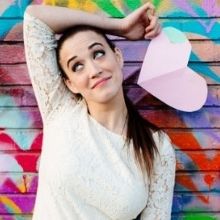 Kayla Drescher, from Los Angeles, has performed all over the world for clients like Microsoft, IBM, Wells Fargo, and many more. You may have seen her on shows like Access Hollywood, Penn & Teller's Fool Us, and NBC's Today Show, where she was crowned "The Next Great Magician" by David Copperfield. Currently, she can be seen in the world-touring show, Champions of Magic, as the close-up magic expert.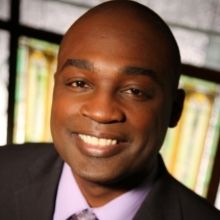 BENJAMIN BARNES is one of America's favorite magicians. As a former student of the legendary Eugene Burger, Benjamin spent two decades under the tutelage of this modern master. He is also the producer of the longest running magic show in Chicago's history (Magic Chicago). And while he is best known for his performances before corporate audiences (Ernst & Young, McDonald's, Accenture, Honeywell, etc.,), Benjamin's magic is regularly featured at magic's most prestigious showplaces including: the Off-Broadway hit Monday Night Magic, Hollywood's famed Magic Castle, the windy-city's own Chicago Magic Lounge, and Jeff McBride's Las Vegas Wonderground.
Dyna Staats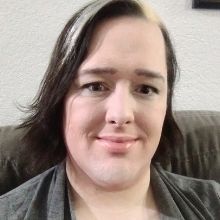 Dyna Staats has been carving her name in magic with her different style of prestidigitation since 2004 when she started learning and performing magic while working at Disneyland in Anaheim California. Since then, Dyna has traveled all over the country to share her Steampunk Mad Science show with as many people as possible. From the Queen Mary in Long Beach, California, to The Old Tucson Film Studios in Tucson, Arizona, to the Steampunk World's Fair in Piscataway, New Jersey, her smooth blending of magic and science bring about a wondrous experience for anyone who dares to watch. On February 19th, 2021, Dyna reached a milestone in her life by performing for the second time on the CW Network television show Penn & Teller: Fool Us for the very first time as her true self; thus making it historical for a couple of reasons. Not only as her first show as the real her but also as the first time an openly trans person has performed on Fool Us in the 7 seasons it had been on the air.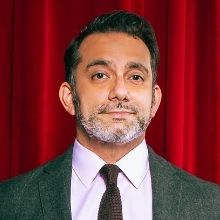 Christian Cagigal
U.S. born son of Salvadoran and Spanish immigrants, Christian Cagigal splits his time between San Francisco and New York City: Magician at Speakeasy Magick at the McKittrick Hotel in NYC, Co-Producer for Odd Salon NYC, Owner of the San Francisco Ghost Hunt, and Co-Founder of Fog City Magic Fest. Cagigal has twice been named a Finalist for the Theatre Bay Area Award for Best Solo Performer, recipient of a Mastermind Award by the SF Weekly, and five-time winner of the Best Magician of the Bay Award by the San Francisco Bay Guardian.
DEAFinitely Magic!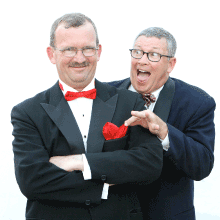 As the dynamic duo known as 'DEAFinitely Magic!', Steve and Greg have shared their comedy/magical act both nationally and internationally. In 2002, Moscow, Russia, and again in 2004, Leipzig, Germany, they were recognized for their talents by being awarded the top prize amongst deaf magicians from throughout the world. Steve and Greg have continued this tradition by recently winning 1st place within a local Ring chapter of the International Brotherhood of Magicians (I.B.M.). They were previously invited to give a special one-time performance at the world-renowned Magic Castle in Hollywood, California.
DEAFinitely Magic! can be found performing in homes for birthday parties, special events, bookstores, and conventions, as well as in large theatres, for both hearing and deaf audiences. Their act has also transcended audiences from as young as preschoolers to senior citizens who are over 90 years of age. At one performance, a group of senior citizens commented that the act was the best medicine that they've had in a while!
With or without the use of sign language, DEAFinitely Magic! is visually entertaining and has no communication barriers. Get ready to be entertained and experience the magic!
Steve is a retired educator of 40 years, the last 29 as an elementary school principal serving both hearing and deaf students as well as students with disabilities. He also was a part-time associate professor of American Sign Language at local colleges for the past 39 years.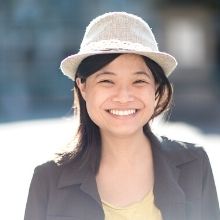 Felice Ling
Felice Ling is an occasionally international street performer who can be found most often in Boston's Faneuil Hall; she has brought her awkward comedic magic to fringe festivals and the streets of three different continents.

Locally, she produces a monthly open mic magic show; as the founder and executive producer of the Boston Magic Lab, she works to build a community that welcomes and bolsters diverse local talent – to one day create a space where diversity is the norm.

Felice is also a social scientist. She was awarded the University of Chicago's Earl S. Johnson Prize for an ethnography exploring the impact of street theater on stranger interactions on Chicago's Magnificent Mile.
Cody Clark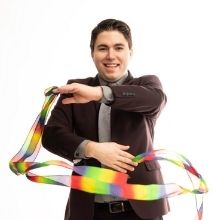 Cody Clark is a Louisville, KY-based professional magician and autistic self-advocate. He's toured at 16 different fringe festivals with his autism advocacy magic show A Different Way of Thinking, winning Spirit of the Fringe in Pittsburgh, Best of Venue in Kansas City, and both the Best Comedy & Variety awards in Tucson's Virtual Fringe. He also shares sensory-friendly magic shows for adult daycares, special needs schools, and advocacy organizations, using his lived experience as a disabled adult to know what to modify. He's received the S.A.M.'s Rising Star of Magic award and shared the historic Louisville Palace stage with Lance Burton. His combination of magic & advocacy aims to show that differences are nothing to be scared of, but simply a different way of thinking!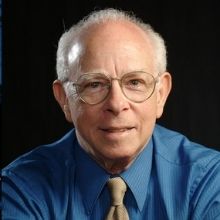 Simon J. Carmel, Ph.D.
Simon J. Carmel, Ph.D., was born deaf in Baltimore, Maryland, and attended Gallaudet University (for deaf and hard of hearing students) in Washington, DC. He worked as a physicist at the National Bureau of Standards for twenty years before going to American University in Washington, D.C., for a doctoral degree in the field of cultural anthropology. He taught anthropology and sociology at Gallaudet University in 1980-1985, and then he transferred to the Rochester Institute of Technology and the National Technical Institute for the Deaf in Rochester, NY. He retired at RIT in the summer of 2001. Later, he was invited as a guest professor of anthropology at Jyvaskyla University in northern Finland for three months in the winter of 2012.
Carmel was also on the U.S. Deaf Swimming Team for the Summer Deaflympics in Helsinki, Finland, in the summer of 1961. Later, he organized a U.S. Deaf Ski Team for the Winter Deaflympics in West Germany in 1967, and then Switzerland in 1971. Later, in February 1975 he was a general chairman of the U.S. Organizing Committee for hosting the Winter Deaflympics in Lake Placid, New York with Alpine and Nordic skiing, ice hockey and ice figure skating.
Simon became interested in magic at the age of four and has been performing magic shows in many states and Europe. He also presents his magic workshops for deaf and hearing children and adults, and also for deaf grandparents in the U.S. His magic lectures to deaf magicians at several U.S. Deaf Magicians Festivals in some states, and at the biennial World Deaf Magicians Festivals in the U.S. and Europe.
He was secretary-general of the Society of World Deaf Magicians for 24 years (1990-2014). He has written four best-selling books on 240 deaf magicians from 43 countries, as well as many articles for professional magic magazines.
The conference is $99 to attend and will be recorded and available for one year after the conference for attendees to enjoy.
Here is out incredible line up of speakers, performers, and presenters:
Friday August 26th
3:00 Felice Ling emcee
3:10-3:30 Kayla Drescher
3:30-3:40 Makoto Halverson
3:40-4:20 Shreeyash Palshikar
4:20-4:30 Cody Clark, Graham Maupin
4:30-4:50 Georgia Lyle
Meadow Perry emcee
15- min break ( 5 min wiggle room)
5:10-5:25 Paul Kilmer
5:30-5:50 Mikayla Oz
5:50-6:10 Cody Clark
6:10-6:30 Chris Capehart
Saturday August 27th
3:00-3:10 Kayla Drescher emcee
3:10-3:20 Billy Hsueh
3:20-3:40 Chris Herren As Faust
3:40-4:00 Susan Zeller
4:00-4:30 Nelson Lugo
4:30-4:50 David Reed-Brown
Paul Draper emcee
15- min break ( 5 min wiggle room)
5:10-5:25 Dyna Staats
5:25-6:05 Simon Carmel & Steve Longacre
6:05-6:25 Autumn Morning Star
6:25-6:45 Meriam Al-Sultan
6:45-7:00 Meadow Perry
Sunday August 28th
3:00-3:10 Scix Maddix emcee
3:10-3:30 Naathan Phan
3:30-3:50 Luna Shimada interview by Paul Draper
3:50-4:10 Arun Rath talk
4:10-4:30 River Barry
4:30-4:45 Gregg Tobo
Leadership team member emcee
15- min break ( 5 min wiggle room)
5:05-5:20 Tori Noquez
5:20-5:35 JJ Lucia-wright
5:35-5:50 Mon Dre
5:50-6:05 Felicity Fields
6:00-6:15 Andrew Nadon
6:15-6:30 Alexzander Schwartz
6:30-6:50 Sara Crasson
6:50 leadership team says thank you
Presenters