Online Mentoring Package
$125.00
Finally, you can study at the famous McBride Magic & Mystery School without leaving home!
Save Money: No costly hotel or air travel!
One on One Focus on Exactly What You Need.
Jeff will help you with your magic, performance, business and more (including reviews of your own videos).
Learn real-world lessons from one of the most experienced magic teachers in the world!
This specially priced offering is ONLY available when you purchase the package of ten 30 minute sessions.
If you would like to try out one on one sessions with Jeff, a single hour of instruction is available for $300.
"Jeff McBride is the greatest magic teacher in the world."
--David Copperfield
Fifty years of on-stage experience as a performing magician and thirty years of providing life coaching and personal training in the art of magic have given Jeff McBride the worldwide reputation as one of the greatest magic teachers of our time.
For full time pros: Jeff has coached and consulted some of the greatest names in magic, including David Copperfield, Penn & Teller, Lance Burton, Hans Klok and many others.
For serious students or magic enthusiasts: Jeff mentors and coaches magicians just like you. He will help you meet your goals, break out of your comfort zone, and deepen your understanding and appreciation of our magical art.
We all need people to help and encourage us as we grow in the art of magic. Jeff knows, firsthand, the transformational power of working with a magic coach. For over thirty years, Jeff McBride was mentored by Eugene Burger. Now, you have a rare opportunity to work with Jeff as your mentor and coach.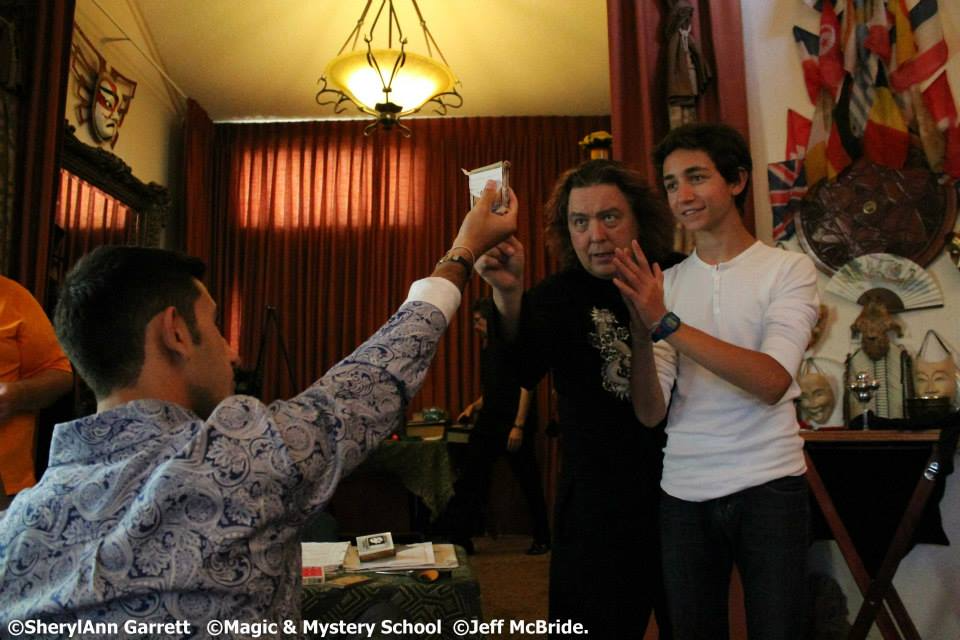 * FOCUS
Jeff can help you transform the magic you already know and perform polished presentations. He will show you how to take your tricks, and put them into a solid show order. Jeff can also help you save thousands of dollars by avoiding unnecessary magic purchases, and will give you the very best resources.
* MOTIVATION
Jeff's deep knowledge of the history and techniques of magic will motivate you to upgrade your skills, deepen your practice and give you the gentle push you need to realize your goals.
* INSPIRATION
In each session, Jeff will offer you new ideas, and new ways of thinking about challenging situations and how to overcome them. Each class is designed specifically for you. This is one-on-one training at its best.
* TAKE AWAYS
Each class, Jeff will review your ideas, videos and questions. He will help you to refine your scripts and master your techniques. He will give you inside information about the best sources, prop-makers, books and other exclusive training materials to give you the professional edge you need to get to the next level.
Listen to what a few of Jeff's students have to say:
Shaved years off my learning curve, and saved me thousands of dollars.
"Jeff's experience and wisdom put me years ahead on my learning and performing trajectory. He saved me from many years of making mistakes. Jeff personally taught me "how to learn magic," and gave me good practice and goal-setting habits. His guidance with purchasing training materials and books has saved me thousands and thousands of dollars. This Mentoring experience is so worth it, I'm signing up for another round of private classes! The best investment I've ever made."
—Jonathan M.
Exponential Growth. Superior Teaching Style.
"I wish I could rate this over 5 stars. I have been working with Jeff on and off for the past 7 years, and I have seen exponential growth. However, since I have been in constant contact with him, he is able to push me month by month to realize and achieve my goals. I have literally seen my success as a performer and a business-person skyrocket over the past two years. Jeff understands how people learn magic and has developed a superior teaching style unlike anything I have ever seen."
- Jeff C.
Vast experience. Astonishing depth of knowledge.
"Jeff has been my mentor and teacher for 17 years. I have found our Skype sessions to be invaluable. His vast experience in such a myriad of subjects and his astounding depth of knowledge and scholarship of the history of magic, the present state of magic and the future of magic make his counsel the highest level one can receive in magic today."
—Derek S.
So Grateful!
"It's one thing to be a great performer, but something else to be an equally great teacher. It's a rare combination, and that's what Jeff is. I absolutely loved my time during my session with Jeff yesterday. This is an incredible way for me to accomplish my goals when not attending live classes in Las Vegas. I am so grateful Jeff is offering to do this."
—Eric H.
Each year, Jeff accepts only a few students into the Mentorship Training program. This is your invitation to take the next steps along the path of mastery.
Please contact Abigail@mcbridemagic.com or call 702-450-0021 for more details.
Individual Online sessions with Jeff McBride are $250 for 30 minutes, or $300 for one hour.
You can save over $1,000 when you sign up for the Private Online Mentorship Training sessions with Jeff McBride.
This very special program package gives you *ten* 30 minute online sessions with Jeff, on a schedule you two decide is best for you, for $1,250. Payment plan options are available.
How Does Online Mentoring Work?
The first thing to do is contact Abigail. You can do this by one of the following methods:
i. Email: Abigail@mcbridemagic.com
ii. Phone: 702-450-0021
Talk to Abigail and she will help you to arrange a convenient time that works for you!
On the day of your first Magic Mentoring Session:
Step 1: Find a Comfortable Place with Internet or WiFi access
Step 2: Jeff will send you a link to a Zoom meeting
Step 3: Make notes of questions, topics or routines that Jeff can help you with.
This program will help you to take bold steps towards your goals in magic, regardless of your level of experience or skill.
If you have any inquiries, or are ready to take the plunge into the Mentorship Training program, call Abigail at 702-450-0021 or email Abigail@mcbridemagic.com
People who purchased this also purchased...
Customer Reviews
An incredible experience!!

Studying in Jeff's mentorship program has been an incredible experience! Jeff is one of the best magicians in the world and an extraordinary teacher with a deep passion for sharing his vast knowledge and insight with his students.

YOUR goals are Jeff's priority. You will be amazed at what he can accomplish in just one session. From class to class you will notice significant growth and progress in your magic. Jeff helped me improve my overall skill set, performance, show building and scripting. He educated me about the creative process and prepared me for my Magic Castle audition. Jeff not only teaches magic he gives you the confidence needed to perform what you learn.

I was a beginner a couple of years ago when I started with Jeff and I'm now performing and experiencing magic at a level I never could have imagined. I highly recommend Jeff's mentorship program to anyone who wants to take their magic to the next level and beyond!

Performance, Process, Knowledge, and Creativity

Simply put, mere words cannot properly explain the value that a mentorship with Jeff McBride imparts. One might think that a lifelong performing magician such as myself would not need Jeff's input, insight, encouragement, and instruction.

Wrong.

I've continued to grow and expand in my performance, process, knowledge, and creativity to levels I did not realize existed. Jeff's point of view and vast experience is a magical fortune whether we are working on trick/routine specifics or brainstorming potential new effects or directions.

I will continue to be a student of Jeff's as long as we are both willing and able because my journey of improvement with magic is never ending. Isn't that part of what makes magic so great?

Exceeds my expectations every time…

Jeff McBride. I honestly could end my review with those two words. The myth is big. The Man is larger than life. How one person could amass so much knowledge and so many skills & talents is dumbfounding in itself, but then add his passion for sharing all of it... wow. I suspect my goals are modest compared to his other students, yet his focus and excitement to help me reach and exceed those goals take my breath away. He exceeds my expectations every time we meet (and mind you, the bar of my expectations was already pretty high), and I come away renewed and energized, my brain buzzing with new ideas & concepts. Make your magic better - train with the Master!

Definitely going to renew for another 10 sessions!!

I am absolutely honored to work with Jeff. I am definitely going to renew for another 10 sessions.

I am in awe of his greatness when we have our Zoom sessions. Jeff is brilliant and he gives me so many power ideas on how to become a better magician and not waste money on buying things I do not need.

I love working with Jeff and I am so happy that he likes working with me. I consider myself extremely lucky to have him in my life.

I wish I had him as a Dad, Brother or Uncle.

Having worked every month with Jeff for the past 18 months, I am 10 times more successful than before I started working with him.

I have reached a level of success in my Magic that I could have never dreamed of before the Pandemic.

Thank you Jeff and Abigail!!🙏🎩

Andy Peters
www.andypetersmagic.com

The BEST investment I ever made...

"David Copperfield calls him the best magic teacher in the world"
Enough said. Jeff is as legit as it comes.
THE BEST investment I ever made.
By the first session, we are going from a plan for my skillset and scaling my business ten fold. By session ten, the intrinsic value of my time investment seemed to be up 100 times.
Can't wait to see what happens after my next 10 sessions!

Absolute Incredible Experience!!

The online mentoring package is an absolutely incredible experience! Jeff is astoundingly insightful and in our sessions he has delivered everything I asked for and much more. Prop choices, manipulation techniques, metaphor and meaning, performance critique, and creative ideas that only a true Master can provide, He always gave his full and complete attention to my growth as a magician. I would strongly recommend the mentorship package to any level magician. I myself am just a beginner, but through my work with Jeff, my growth and learning have been super accelerated and I couldn't be happier.
See all 11 customer reviews
Write a customer review