Larry Hass, Ph.D.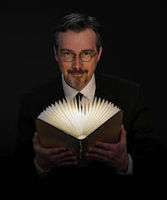 Larry Hass is the Dean of the McBride Magic & Mystery School
Larry Hass, Ph.D., is the Dean of the McBride Magic & Mystery School.

Larry creates magic shows that mix astonishing, artistic magic with ideas that lift the spirit. He has performed in over 15 countries at theaters, nightclubs, universities, art museums, medical schools, public conferences, and corporate events. In 2019, to great acclaim, he premiered his full-evening theater show, Magical Life : An Evening with Larry Hass.

Dr. Hass has won multiple awards both as a writer and an inspirational teacher of magic. He is the author of over 20 bestselling books and videos for magicians, including Magic Inside Out (with Robert E. Neale, 2021), Eugene Burger: From Beyond (with Eugene Burger, 2019), Dying to Change (2019), Life Magic (2018), Teaching Magic (with Eugene Burger, 2017), Inspirations: Performing Magic with Excellence (2015), The Show Doctor (with Jeff McBride, 2012), and Transformations: Creating Magic Out of Tricks (2007). He has published essays on magic performance in most every print and online magic magazine, and his writings have been translated into 10 languages.

Larry Hass's visionary approach to magic has been featured in leading international media, including the New York Times, USAToday, The Chronicle of Higher Education, by the Associated Press, National Public Radio, on the Discovery Channel, and in his recent TEDx Talk.