Be inspired by the very best in the business!
Romany, Diva of Magic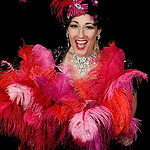 The McBride Magic & Mystery School, then multiple Master Classes, were my very first magic learning experience, 20 years ago. Now, I am living and enjoying every minute of the dream that I took to Mystery School, and which Jeff and Eugene were the first to believe in and constantly encourage through this whole journey. They have been ALWAYS loving, insightful, funny, encouraging and experts in their fields... and so much more. I SO appreciate that my interaction with them is woven through every piece of magic that I now love performing. I take them, their deep support and their example with me in every journey and every show. I would encourage you in EVERY case to learn from them, laugh, enjoy, make new friends and be inspired by the very best in the business.