Magic & Meaning 2021 - Live ONLINE
$195.00 ($100.00 minimum deposit)
Registration Not Open
The Magic & Meaning Conference Will Be Online Again in 2021! Join Us as We Celebrate FIFTEEN Years!
Our Special Guest at this year's event in Dan Harlan.
The 2020 Online Magic and Meaning Conference was a smash success: it drew well over one hundred participants from around the world--people who would not otherwise have been able to attend. Further, our online community has grown by leaps and bounds since the beginning of 2020. Since Magic and Meaning is our School's "homecoming event," and since our presence has become so global, we have decided, once again, to hold the 2021 Magic and Meaning Conference online.
As has always been the case, the Conference will feature 18 of our remarkable P-E-P Talks by attendees. (Go HERE to see how you can submit a proposal to make a presentation to the community.) It will also feature Ensemble Shows, break-out room discussions, teaching magic effects, and this year we will complete our celebration of the four archetypical tools of magic by featuring a FESTIVAL OF COINS.
Hosted by the Magic & Mystery School Faculty, the Magic and Meaning Conference is an annual gathering of magicians, scholars, public speakers, professionals from many areas, and performers of diverse arts. It is for anyone who loves magic, storytelling, the philosophy of magic, and who wants to think about magic in new ways.
FIRST TIME AT THE MAGIC AND MEANING CONFERENCE?
Here are a few fun facts to consider:
You will learn Magic with Meaning: Awesome NEW magic effects, presentations, and stories to add to your shows. You will see new P-E-P Talks and Lectures on many areas of magical exploration. You will connect with old friends and new ones through our online break-out room facilitated discussions. You will receive access to a Master Key Package, which will share exclusive documents and videos and allow you to experience the Conference ON DEMAND You will experience the FESTIVAL OF COINS, magic teaching and productive conversation during breaks, and much, much more!!
WHY should you attend? Watch this! https://www.youtube.com/watch?v=SQVo4zsfWZ4
Register now to insure your space at this year's Online Magic and Meaning Conference!
At the heart of the Conference are a number of 10-minute presentations from conference attendees that we call the "PEP Talks" of magic ("Performance—Entertainment—Philosophy"). The Conference also features "Ensemble Shows" during which attendees are able to perform magic for the entire group.
Our Special Guest:
Dan Harlan is one of the great inventors of our time. He also happens to be one of the nicest people and one of the most giving and sharing of any magicians I've ever met.
Dan was with us at the very early Mystery Schools and brought a delightful dimension of mischievousness to our Mystery School community.
The tradition continues at the upcoming MAGIC & MEANING CONFERENCE and our WEEKEND OF WISDOM. Dan Harlan will attend BOTH events and present two completely different programs. He will also be here with us live to share magic in small groups… Not only teaching his wonderful magic but helping you with yours.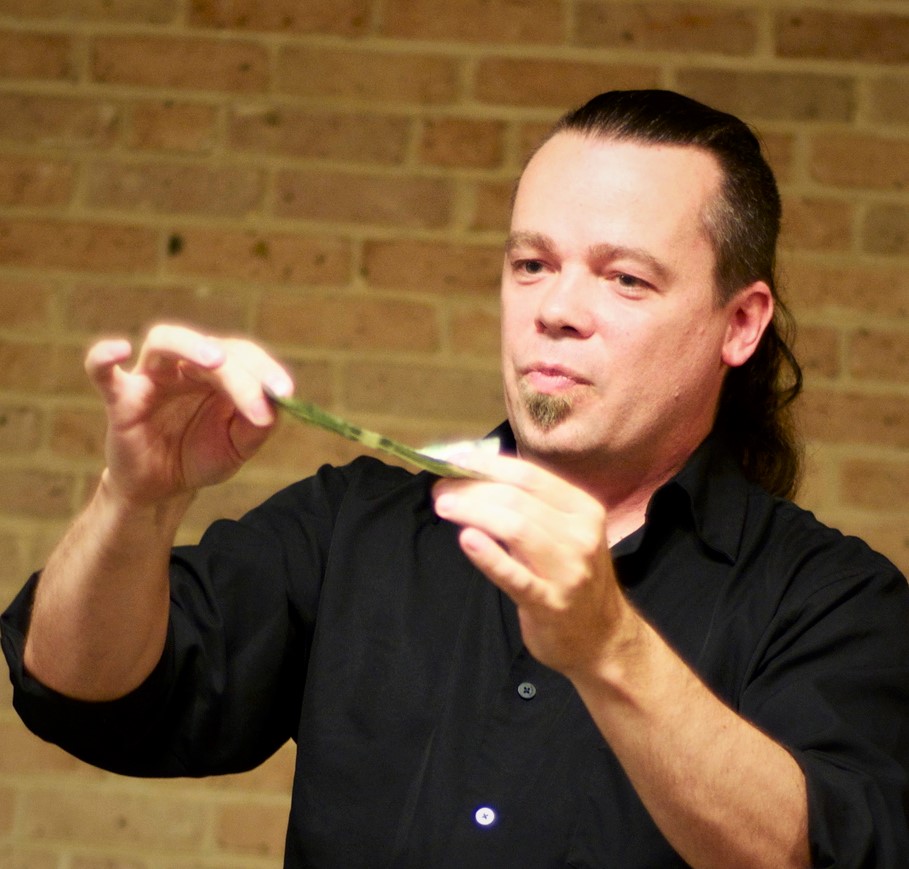 Here is our PRELIMINARY SCHEDULE (subject to change):
ALL TIMES PACIFIC
Day 1: Friday, September 24, 2021
2:00 p.m.-3:30 p.m.: Opening Party (Including Opening Video Circle and Gathering Ritual) at the House of Mystery!
Day 2: Saturday, September 25, 2021
9:30 a.m.: Gather in the School Yard for Fun and Conversation
10:00-12:15: Conference Events and Programming
12:15-1:00: Lunch Break
1:00-4:15: Conference Events and Programming
4:15: After-School Hang (in Break-Out Rooms)
Day 3: Sunday, September 26, 2021
9:30 a.m.: Gather in the School Yard for Fun and Conversation
10:00-12:15: Conference Events and Programming
12:15-1:00: Lunch Break
1:00-4:15: Conference Events and Programming
4:00: After-School Hang (in Break-Out Rooms)
Presenters